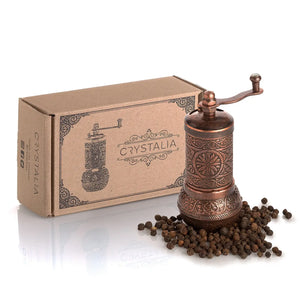 Black Pepper and Spice Grinder, Manual Pepper Mill with Handle HIGH-QUALITY: Suitable for grinding spices, pepper, coriander, salt, cardamom, mustard, cumin, sumac.
SIZE: 4.5 x 2 inches
BONUS SPOON: Comes with a mini authentic spoon
EASY TO USE: It fits in your hand with a perfect size. This spice grinder has a short handle, detachable ornate holder, and sliding pour hole
VINTAGE AND ELEGANT DESIGN: Our pepper mill has an Ottoman Vintage design. This traditional grinder is both decorative and functional that will be a wonderful addition to display in your kitchen and home decor.
VARIED COARSENESS SETTINGS: You can adjust coarseness with the screws on top.
EASY TO CLEAN: You can use our product for many years. In order to ensure the long service life of these products, we recommend that you do not wash in the dishwasher. It is easy to clean. It can be hand washed and later dried off with a paper towel.

Made in Turkey