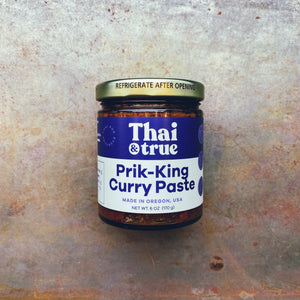 Prik-King curry paste is sweet and spicy. This paste is commonly used as stir fry base and cooked without coconut milk. You can use it to especially cook Prik-King stir fry dish that is traditionally balanced between sweet and spicy. 

Ingredients: Red curry paste (dried red chili, garlic, lemon grass, shallot, salt, galangal, makrut lime zest, spices [coriander seed, cumin]), organic cane sugar, water, safflower oil, 100% freshly squeezed lemon juice, and paprika.
Directions: Stir 1 heaping TSP of Thai & True Prik-King Curry Paste in medium-heated oil. Add choice of protein and veggies. For fried rice, add cooked rice. Stir-fry for a few minutes. Mix thoroughly and serve. 

Check out Prik-King Curry Paste Recipes
Refrigerate after opening.
This product is GMO-free, Gluten-Free and Vegan.