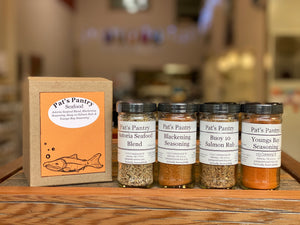 Seafood Boxed Set includes jars of each:
 Astoria Seafood Blend: Delicious on albacore tuna but don't limit it to just seafood! Also great on pork loin and chicken too!
Blackening Seasoning:  Provides a full flavored taste to whatever you want to "blacken", seafood, steak, chicken. Yum!! 
Bouy 10 Salmon Rub: Our signature salmon rub with an Asian twist. A favorite of a big catering company in Alaska!
Youngs Bay Seasoning:  Our version of Old Bay Seasoning. Delicious on shrimp, crab cakes, seafood stew and even popcorn!