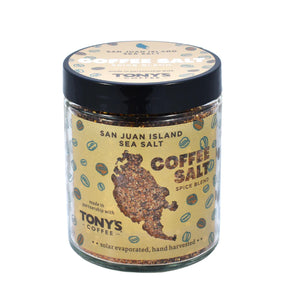 San Juan Island Sea Salt and Tony's Coffee meet! A combination of the rich caramel notes of Tony's iconic Cafe Carmelita coffee and a deep spice rub that's perfect for grilling season.

Tony's Coffee has been a staple in Bellingham since 1971, and their brews are a favorite amongst our warehouse staff. Between their commitment to sustainability and their incredible coffee roasted right in Bellingham, you've got to check them out!
Inspired By: Tony's bestselling Cafe Carmelita blend that delights with its smooth, timeless flavor.
Tastes Like: Robust coffee aroma, peppery base notes, sweet garlic highlights.
Try it On: Grilled rib-eye, friend chicken and waffles, roasted root vegetables. 
Ingredients: San Juan Island Sea Salt, Tony's Cafe Carmelita organic coffee beans, organic garlic, organic onion, organic black pepper, organic cane sugar, organic paprika, organic coriander.