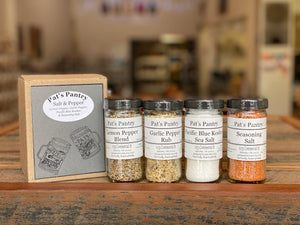 Salt & Pepper Boxed Set includes jars of the following:
Lemon Pepper Blend: Lemony, peppery and delicious. Works well with almost anything including meat, vegetables and eggs.
Pacific Blue Kosher Salt: Pacific Blue Kosher melts quickly and blends well with other dry ingredients. By volume, this salt is lighter than traditional sea salts. The crystals are shaped like small, hollow pyramids, as in the tradition of the Kosher flake style. This natural sea salt is a great upgrade from refined Kosher flake salts!
Seasoning Salt: Use in place of salt to season burgers, chicken, pork chops, potatoes & vegetables.
Garlic Pepper Rub:  Strong, intense with a bite of spice from the black pepper.  Great on meats. Equally delicious on fish.