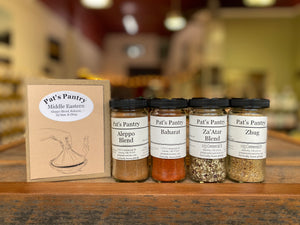 Middle Eastern Boxed Set includes jars of the following:
Aleppo Blend:  Warm, full flavored, sweet and tart. This blend is used for grilled and roasted chicken and lamb, and for preparing kofte and kibbeh.  Pat's favorite way to season lamb meatballs (kofte).  
Baharat: Earthy & sweet.  Use in kibbeh, in meat stuffings for pastries, in tomato sauces and in soups & stews.

Za'atar: Mix with olive oil for a delicious bread dip, sprinkle on hummus, vegetables, meat, salad dressing and salad.  We love to brush fresh baked pita bread with olive oil and generously sprinkle with za'atar!
Zhug: Warm to hot spicy blend that stimulates every part of the tongue. Complements everything from salads to soups, meat dishes to appetizers.  Try making a paste from 4-5 cloves of garlic, add 1-2 tbsp. zhug, a handful of chopped, fresh cilantro and olive oil to whatever consistency you like.  Use as a wet marinade for chicken, drizzle over cooked fish, meats or vegetables, or use as a bread dip!