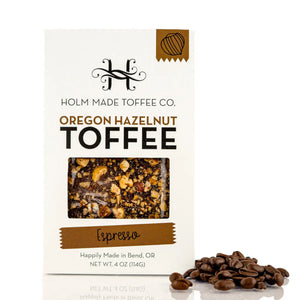 Awarded 'Best Chocolate Candy' at the 2015 and 2018 Oregon Chocolate Festival. Also awarded 2018 & 2020 Gold and Bronze medals for the "Top Toffee Awards" by the International Chocolate Salon.
We are crazy for this aromatic spice. It balances the sweetness of the toffee with a unique spicy chai, herbal character.
Our toffees contain no gluten, no soy, no corn syrup and no preservatives. It's Happiness. Plain & Simple!
Each box contains 4oz (114 g) and is made with high quality, locally sourced ingredients.
Shelf life is 6 months, with clearly marked 'best by' dates on each unit. Best if kept cool and dry. We do recommend smaller, more frequent orders if possible to maintain maximum freshness and 'crunch factor'.

Made in United States of America