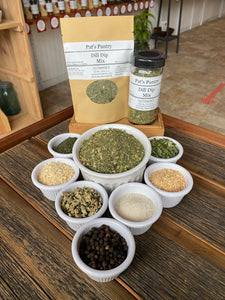 Ingredients: Dill weed, onion, salt, celery flakes, sugar, leeks, garlic, arrowroot & black pepper.
Taste & Aroma: Clean herbal aroma and flavor, doesn't mask but enhances whatever you're dipping into it.
Uses: A great base to create a dip for chips, veggies or anything else you enjoy dipping!
Mix 2 tbsp. Dill Dip Mix with 8 oz. sour cream and 8 oz. mayo, then chill.