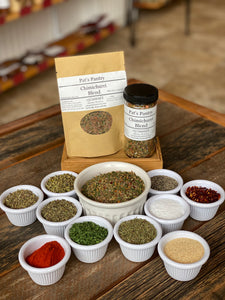 Ingredients: Mexican Oregano, Basil, Parsley, Thyme, Kosher Salt, Ground Black Pepper, Smoked Spanish Paprika, Summer Savory, Garlic Powder and California Crushed Chili Flakes.

Uses: Mix with olive oil and/or red wine. Apply while grilling meats.  Also used as a condiment.
Chimichurri. Basque tximitxurri 'hodgepodge', 'mixture of several things in no particular order.