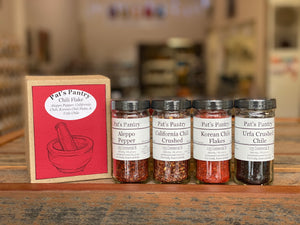 Chile Flake Boxed Set includes jars of each:
Aleppo Pepper: One of our favorites. Works well in just about everything including eggs, pasta, soups, sauces and steaks.  Medium heat.
California Chili Crushed: Liven up pizza, pastas and casseroles! Hot.
Korean Chili Flakes: Also known as Gochugaru, this smokey and earthy chili is used in kimchi and bulgogi, but adds life to many, many dishes. Mild heat.
Urfa Crushed Chili: With a smokey raisin-like profile and chocolate notes, Urfa biber is a dried Turkish chili pepper that works great with sauteed vegatables, lamb, and kebabs.