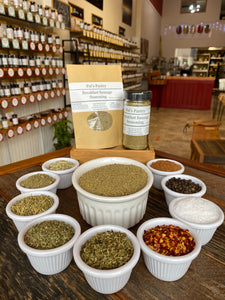 Ingredients: Fennel, rubbed sage, rosemary, marjoram, Greek oregano, chili flakes, sea salt, tellicherry pepper and mace.

Uses: A little spicy, a little sweet, savory and pungent from fennel and sage, this blend is great on breakfast sausage, and/or meatballs. Use approx. 2 tablespoons per pound of ground pork, mix well and refrigerate over night to blend flavors.
Spices are an essential part of any sausage, providing both flavor and preserving the sausage.