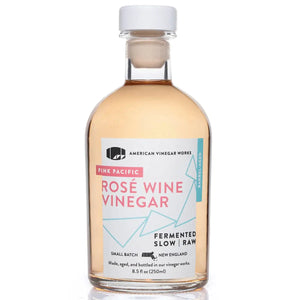 Made with California rose wine this vinegar is bright, summery, and, frankly, beautiful. It is slow fermented in small batches using a unique process from the early 1800s and aged in 25-gallon American oak barrels. Lighter than a red wine vinegar but with more body than a white wine vinegar our Pink Pacific Rose Wine Vinegar is extremely versatile.
This is Rose like the grape wine not the flower, but by any (other) name it is as fantastic (though not sweet...).
Size 250ml glass bottle
Perfect For Vinaigrettes, asparagus, summer salads, seafood, and martinis.
Fermentation Base Rose wine
Base Origin California
Taste Profile Bright acid with a savory fruit finish. Summer in a bottle.
Production Process Slow fermented.
Aged in oak barrels.
Minimum Acidity 5%