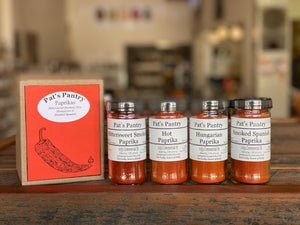 Paprika Boxed Set includes jars of the following:
Bittersweet Smoked Paprika: This is a dark red paprika with a fine texture and sweet mild flavor accented by a hint of smokiness, but with a distinctly sharper and bolder flavor. 
Hot Hungarian Paprika: Warm, rich, peppery and hot. 
Hungarian Paprika: Hungarian paprika has a full, sweet peppery flavor without the heat and is the paprika of choice for such classic European dishes such as goulash, chicken paprika and stuffed bell peppers. It is also a great way to garnish deviled eggs, potato and pasta salads, or baked chicken and fish. It works well with beef, pork, duck, and veal dishes. 

Smoked Spanish Paprika: Smokey, warm and rich. Also know as Pimenton De La Vera Dulce.