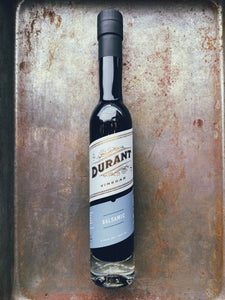 Aged in Modena, Italy for 8 years and bottled at the Durant Olive Mill. 
A bright, ripe fruit flavor profile that is sweet and tart with a slightly caramelized finish. Pairs beautifully with our Extra Virgin Olive Oils for creating wonderful salad dressings, for dipping bread or pouring over aged cheddar cheese as an appetizer. 
Ingredients: Grape must, red wine, vinegar and caramel color.  Contains natural sulfites.
4% Acidity • 6.76 oz | 200 ml • Product of Italy. Bottled & distributed by Durant in Dayton, OR