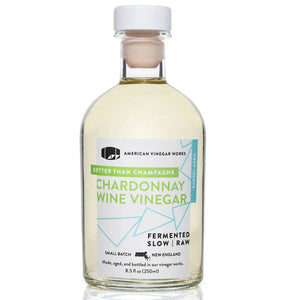 Made with chardonnay from California this vinegar would be a blanc and blancs if it were a champagne. Luckily it is not, it is better. It is slow fermented in small batches using a unique process from the early 1800s and aged in 25-gallon American oak barrels.
Our Better Than Champagne Vinegar is just that. It is not champagne vinegar, it is its' better cousin from across the pond and we couldn't be happier with how this little upstart turned out. Naming Note: Why don't we call it Champagne vinegar? We told you- it's better... AND we strive to make vinegars with a sense of place and that respect that sense of place in other foods.
Champagne vinegar should come from the Champagne region of France. 250ml glass Vinaigrettes, beurre blanc, finishing hot sauces, and mignonette for oysters.
Fermentation Base Chardonnay, California
The most delicate of our wine vinegars. Bright and clean acid with a slightly nutty layer. Slow fermented. Aged in oak barrels.
Minimum Acidity 5%