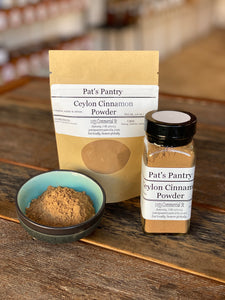 Ingredients: Ceylon Cinnamon Powder
Taste and Aroma: Compared to the more common Cassia Cinnamon, Ceylon Cinnamon is less spicy and more complex, subtle, fragrant and citrusy. Ceylon cinnamon is often referred to as true cinnamon or baker's cinnamon.
Uses: European Cuisine, baking, desserts, custard, pie, ice cream, pudding, whipped cream, tea and fruit.  Excellent with fruit like apples or peaches.